What is MyWorld Careers?
MyWorld Careers is the region's first recruitment agency to run on international best practices. We are proud to be continuously recognized as the top recruitment agency in Cambodia and every country we operate.
Best in the Business
​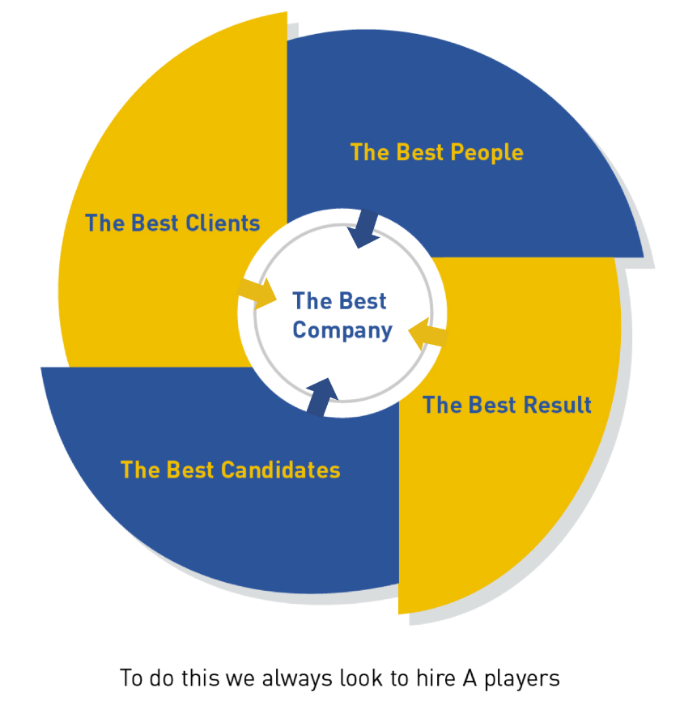 ​
​
THIS IS WHAT IT MEANS TO BE AN A PLAYER AT MYWORLD
Our culture drives the behavior of employees!
​
Our Culture
The Best People

Consistently Focus on the Small Things, and The Best Results will Follow

Reward High Performers

We are always Accountable to our Customers and Colleagues

Striving to Perform Better Everyday

Live our Values
Mission Statement
We aim to be the best recruitment service for the Cambodia market

To place the right candidates at the right companies

Offering a progressive and challenging environment for our employees
Our Vision
To be the most respected and relied upon recruitment and staffing agency in every country we operate in
The Best People
Surround yourself with A Players and you will become an A Player

The best environment is a challenging environment, your colleagues should push you every day to be better than you were the day before

We are a group of people who have come together to achieve our goals

Just like any sports team, you only become the top if you work together, assisting each other and helping everyone to be the best in their role

Being agile and able to deliver the best value and customer service in a timely manner

Show intuitive and make clear business decisions that add value to all parties
Consistently Focus on the Small Things, and The Best Results will Follow
A Players consistently focus on all parts of the job, that is why they get the best results

Attention to detail, picking up small possible issues will save you a lot of problems in the future

When you are confident that you have covered all the small things, you will be more confident to push for the big achievements

A Players set milestones and take the small steps that lead to the ultimate goals and lead to success

Being well-organized, eliminating unnecessary distractions and focusing on things that matter in achieving your goals

Visualize your desired results, dream big and dream often and you will achieve great results
Reward High Performers
The best performers are paid the most regardless of title, age or experience

We are completely transparent, there is no favoritism

Average performers are asked to leave
We are always Accountable to our Customers and Our Colleagues
A Players are committed to success. They may make mistakes, but they will learn and grow from it

A Players commit to a plan and they see it through to the end, no matter what stands in their way

A Players always help their colleagues, so we can all achieve together

A Players don't take shortcuts, they focus on quality every time

A Players always work ethically and with integrity
Striving to Perform Better Everyday
A Players push themselves every day to improve, they are eager to learn from those around them and aspire to continuously be better.
Live our Core Values
Continuous self-improvement (Committed to Corporate and Individual Development)

Quality (Professionalism, Delivering Value, 100% Rule)

Accountability (Taking Ownership and Responsibility for one's tasks, achievements and mistakes)

Customer Service (Commercially focused, build Trust with all our Customers)

Team Work (Enabling Each Other to Do What We Do)
Commitments Statement
To Our Clients – Deliver the Best service
To Our Candidates – Introduce the Best opportunities
To Our Colleagues – Be the Best team member and support them in achieving their goals, together we are strong
​